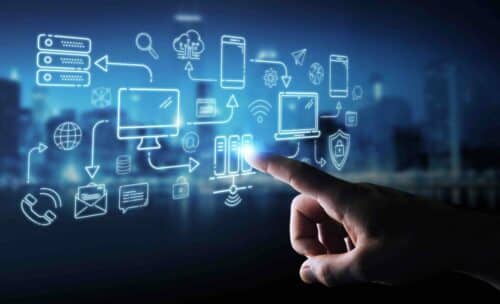 Now is the time to start looking at what changes you want to make in 2023 to grow and improve productivity, security and business outcomes. While many factors affect this growth, there is no doubt that technology plays a major role. One of the fastest-growing trends in IT is outsourcing the day-to-day activities surrounding the operation and security of computer networks, internet usage and other digital infrastructure.
When starting a business or growing a small business, there's not usually enough budget to hire experienced and proficient IT personnel to make necessary updates or monitor and respond to cyber threats. However, managed IT services provide you with access to IT professionals with years of training and experience. MSPs have a team of certified IT experts with a deep knowledge of technology who are extremely proficient in handling all kinds of IT operations to keep your business running smoothly. Another advantage of working with a managed service provider is that business disruptions usually don't happen or are kept to a minimum because the response to any problem is immediate.
Access To Premium Tools And Solutions
Bringing in new technology is often expensive and can take time to implement. Therefore, having the most current systems and software in place is difficult for any small- or medium-sized business. Technology changes quickly, so it's unlikely for many SMBs to have the most current stack. By providing clients with the most up-to-date IT tools and solutions, working with managed IT service providers allows a company to have the "latest and greatest" technology without the substantial financial burden. This also helps keep your business compliant with any standards and regulations required or technology. MSPs are familiar and knowledgeable regarding technology compliance requirements. As the service provider, remaining compliant with the technology falls on the provider—one less challenge for the business.
24/7 Service
One of the drawbacks of in-house IT teams is that maintaining true 24/7 service is expensive and sometimes impossible. Coordinating weekends, holiday time, employee sickness and unexpected emergencies means that there may be periods where your business isn't being appropriately monitored by IT experts. By switching to managed services, you'll be dealing with a company whose business model is based upon 24/7 service.
Ability To Focus on Core Business
By switching to a managed service provider, you'll no longer have to worry about whether your software has been updated or the latest security patches have been installed. You will no longer have to argue whether a new version of software is worth the investment or when it's time to upgrade your employees' computers. A managed service provider will take care of these things while allowing you and your organization to focus on your primary business functions. After all, being able to focus on the core business rather than the computer systems that operate in the background is far more likely to guarantee success.
Ease Of Scalability
Switching to a managed service provider will allow your business to scale up or down much more smoothly than if you were required to make all the necessary changes in-house. Seasonal businesses that work with managed services providers might not need to invest in extra equipment that only gets used a couple of weeks out of the year. Working with a managed services provider allows your business to scale while handing over the hassle typically associated with such a move.
To learn more about how managed services can support your business, get a free assessment today.